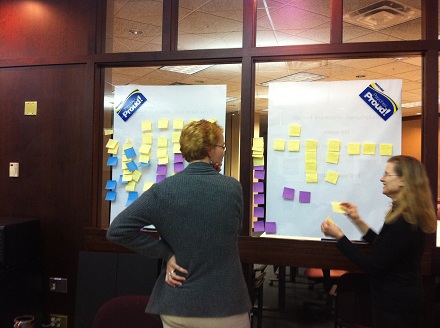 Usability Testing Internship
Paychex Inc.
Led a research effort aimed at understanding and improving client facing reports. Responsibilities include planning, recruiting, site visit and telephone interviews, contextual inquiry, note taking, data analysis and usability report creation.
Christine Taylor Van Brunt, Kacie Michaels, Kertin Navik, Sree Anirudh J Bhandaram

Recruiting participants, Creating research plan, Notetaking, Affinity diagramming, Analyzing data and presenting results, Creating usability reports

Spring 2010
Recommendations

"Sree Bhandaram is a serious-minded, organized individual with a thoroughly professional demeanor. He does good research in the field, online, and on the phone. He is personable, and he easily interfaces with people. He familiarizes himself constantly with current tools that can be used to enhance the knowledge or efficiency of any endeavor. It has been a great pleasure to work with him, and we have benefitted from the work he has done while with us. I am happy to recommend him."

--
Christy Van Brunt
Requirements Analyst
Paychex, Inc.
"Sree worked in the Usability Analysis and Testing group at Paychex from March to May of this year (2011). During that time he conducted and contributed to a major study of our payroll reports. He participated in the creation of a usability plan, the creation of interview questions for live interactions with clients, and the creation of a major survey (using survey software) that was posted to our larger client population.
Among his extensive activies and exposures to usability techniques, Sree recruited clients for site visits and usability sessions (cold calling); he participated in observations and interviews face-to-face with clients at their own locations; he actively observed and took notes for remote usability sessions with clients using meeting software.
After each session he participated in session debriefs and identification of major and minor usability issues, and then contributed to the affinity diagramming of those findings to see common trends across user experiences.
Sree created the report that analyzed the summation of usability findings regarding our payroll reports; he put together a slide show and presentation; and he presented to our user experience team.
During his brief tenure with us, I was impressed by these personal traits: quickness of mind, competence, confidence, courtesy, work ethics, comfort with responsibility, interpersonal skills, discipline, technical acumen, willingness to learn, offerings of new ideas, independence, teachability, ability to lead, ability to follow.
Sree would be an asset to any team."

--
Christy Van Brunt
Requirements Analyst
Paychex, Inc.
"Sree shows marvelous initiative on projects - he's adept at anticipating needs and acts on them quickly. I was surprised at how quickly and well he was able to bring his project to completion. I enjoyed working with Sree."

--
Kerstin Navik
User Experience Analyst
Paychex, Inc.